Join us at Mt Hood Center and watch 7 amazing adoptable horses compete in our Training Challenge. Shop the tack sale and meet some of the SEO horses you've been supporting!
120 days for great local trainers to help rescue horses find great homes!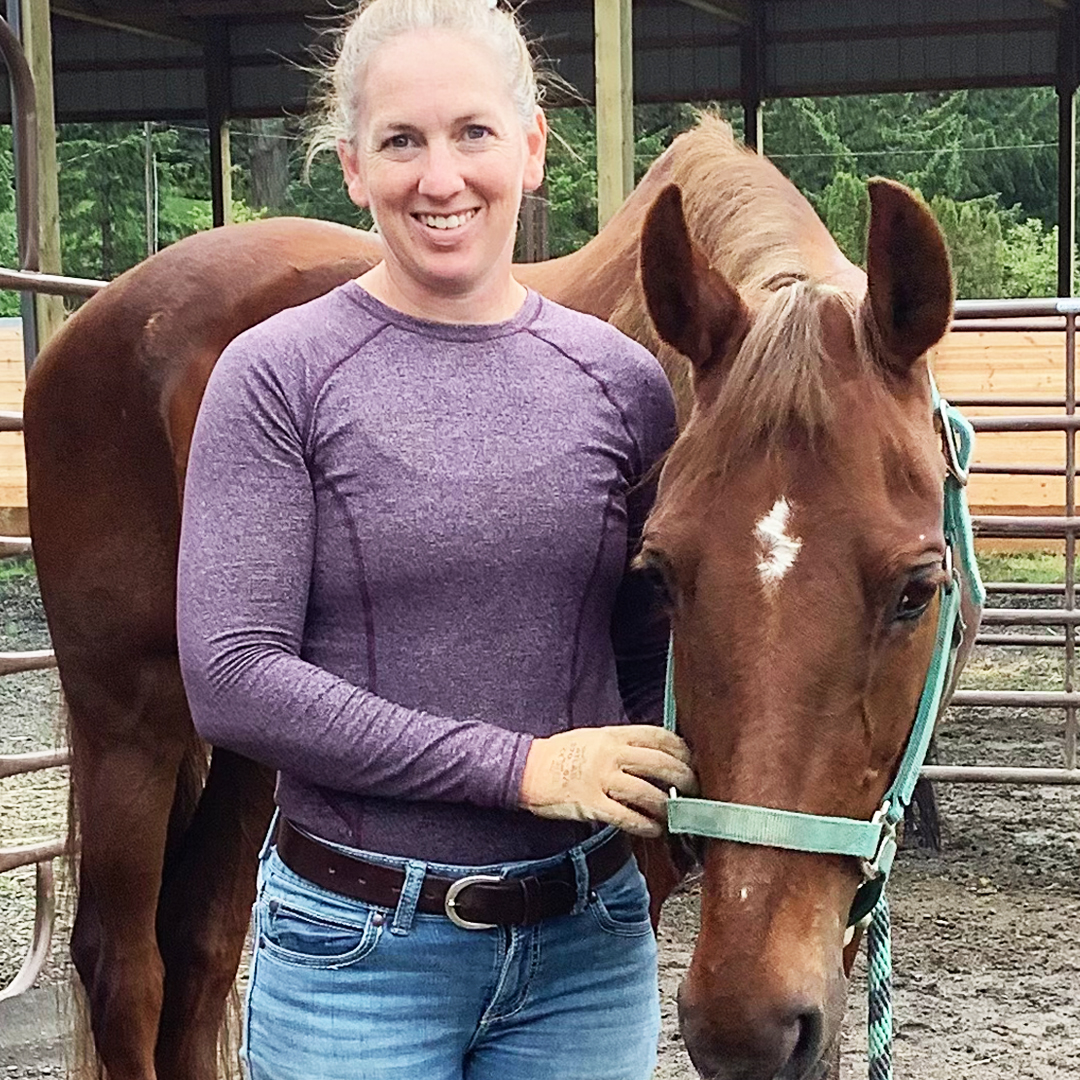 Heavenly Magic: 12-Year-Old Chestnut 15.2 hh Saddlebred Mare
Heavenly Magic is a 12 year old 15.2 hand chestnut Saddlebred mare. She is currently solid at a w/t under saddle and working on her canter. She is a steady mare that takes things in stride. She's a rockstar on the trail and crosses water and obstacles well. Magic currently needs an intermediate rider because she is green broke. However, she has a sweet and quiet nature and would make a great kids or beginner horse with more miles on her.
Kim has been passionate about horses for as long as she can remember. She finally got the opportunity to take her first riding lessons at the age of 14, and has enjoyed learning and growing in knowledge and horsemanship skills since then. Kim was a horse trainer for 10 years, until her daughter was born and she chose a more stable and safe job. During that time she continued to take dressage lessons and enjoyed riding in a more recreational manner. Like with many others, COVID and the spring of 2020 altered her life completely and she was no longer able to work fulltime. She now enjoys being a mom and spending more time at home where she's able to start exploring her career as a horse trainer once more. She's very excited about this opportunity and looks forward to all the experiences that will come with it!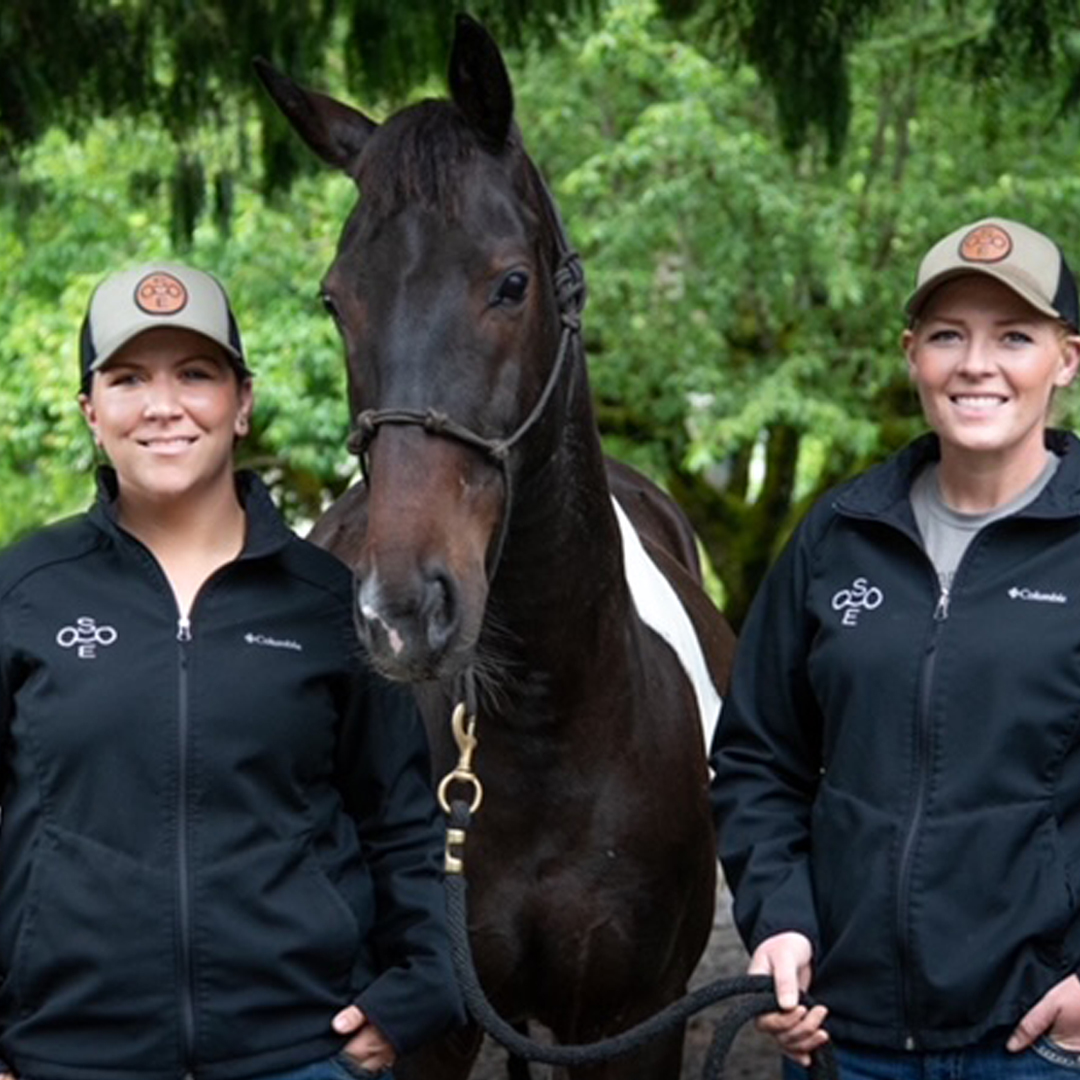 Juliet: 6-Year-Old Bay/White Quarter Horse Cross 15 hh Mare
Juliet is guestimated to be a 7 year old Arab/stock cross mare, 15 hands. Trainers Courtney and Hailey have done a fantastic job gentling her down and getting her to come to work and enjoy the process. She is not started under saddle as of yet, but has potential to go in many directions. She's athletic and fancy to boot! Juliet has been conquering outdoor obstacles like a champ and will most likely turn out to be a great trail horse as well!
Courtney and Hailey are the training duo behind Sain Equine. From basic colt starts to champion reining barns – their combined equestrian background is extensive and a lifelong love. Their training program focuses on building a strong, well rounded foundation for horses of any breed or discipline. They understand each horse is an individual and tailor their training program to fit the horse they're working with. There is an emphasis on building confidence in a horse and a clear understanding of the job expected of them. ​​It's incredibly important to both Hailey and Courtney that each horse that leaves Sain Equine is set up for success so that they are able to have long, happy careers.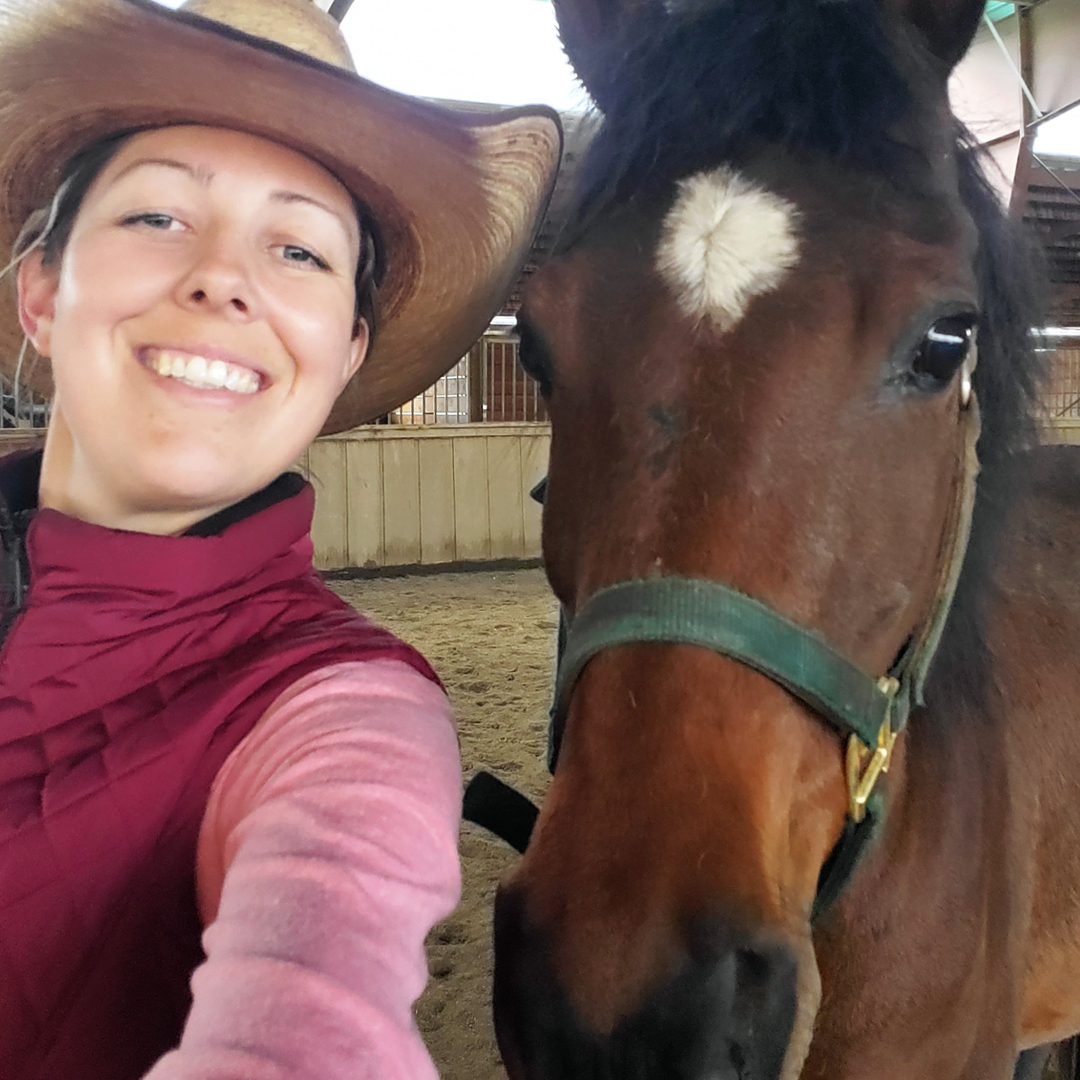 POLLY: 15-Year-Old Bay 14.3hh Arabian Mare
Polly is a 15 year old, 14.3 hand bay Arabian mare. She is currently w/t under saddle and working on her canter. She has spirit and energy to spare. She has ridden in the arena and outside and has done great. She prefers to follow rather than lead when hacking out. If you are a fan of Arabs, you'll love Polly!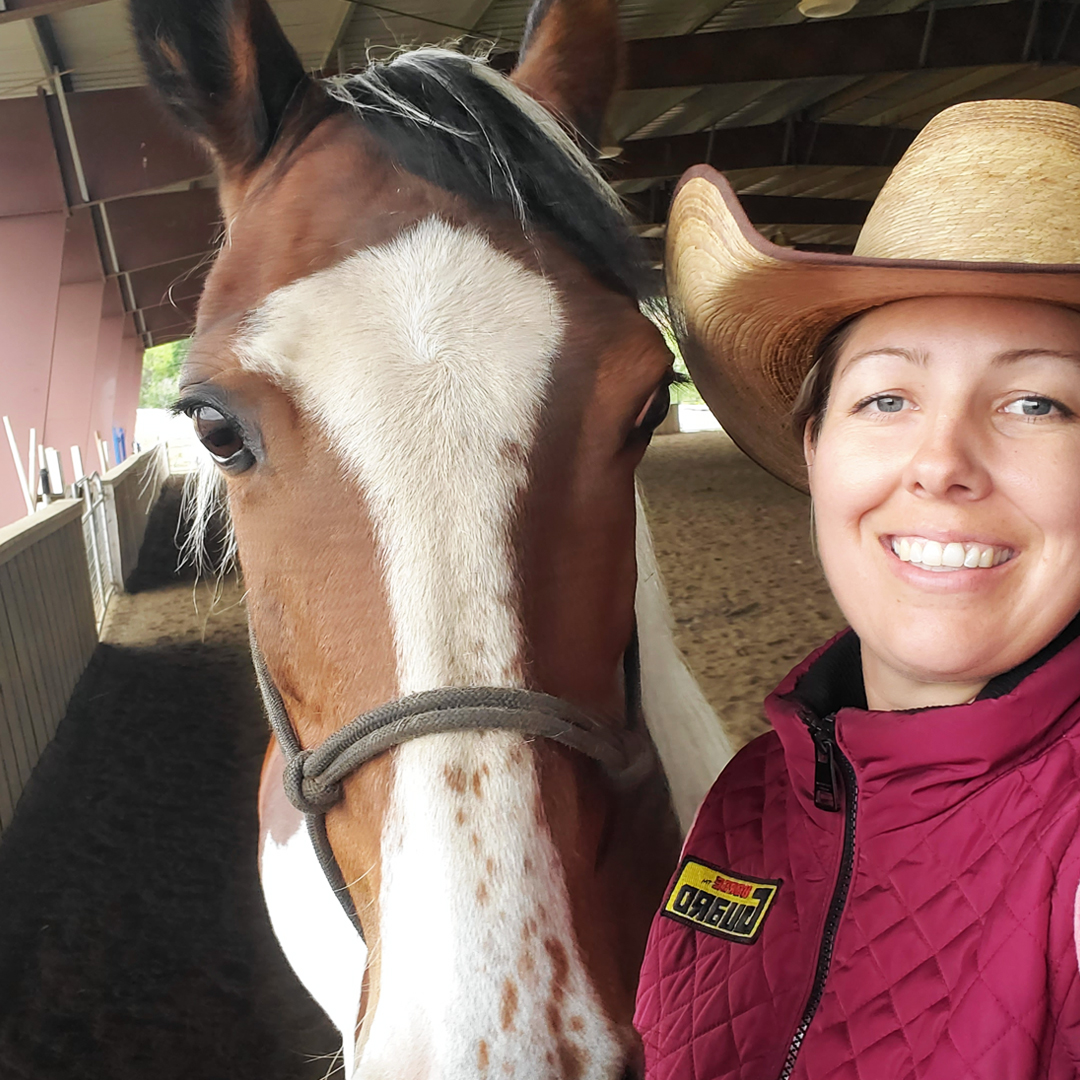 FRECKLES: 8-year old bay/white 15hh Saddlebred Mare
Freckles is an 8 year old bay pinto 15 hand Saddlebred mare. She is currently w/t under saddle in the arena. Although she hasn't hit the trails yet, Freckles is showing signs of becoming a rock star trail horse! She does well with obstacles, objects and tarps. She's pretty level headed and takes new things in stride with a confident and connected rider. Hopefully she'll be hitting the trails soon! Freckles is green broke, so she will need an intermediate rider capable of continuing her education.
Roxanne started riding when she was in her mother's womb. After years of growing up trail riding, team penning and barrel racing, she eventually joined 4-H and High School Equestrian. She fell in love with being able to ride in any discipline the horse enjoyed rather than only one thing she personally enjoyed.  After graduation, she continued to show and started training and exercising horses for other people. Her philosophy is about truly understanding and communicating with each individual horse and helping their owners do the same. To her, riding isn't about just getting on a horse, it's about being a teammate and sharing the journey together.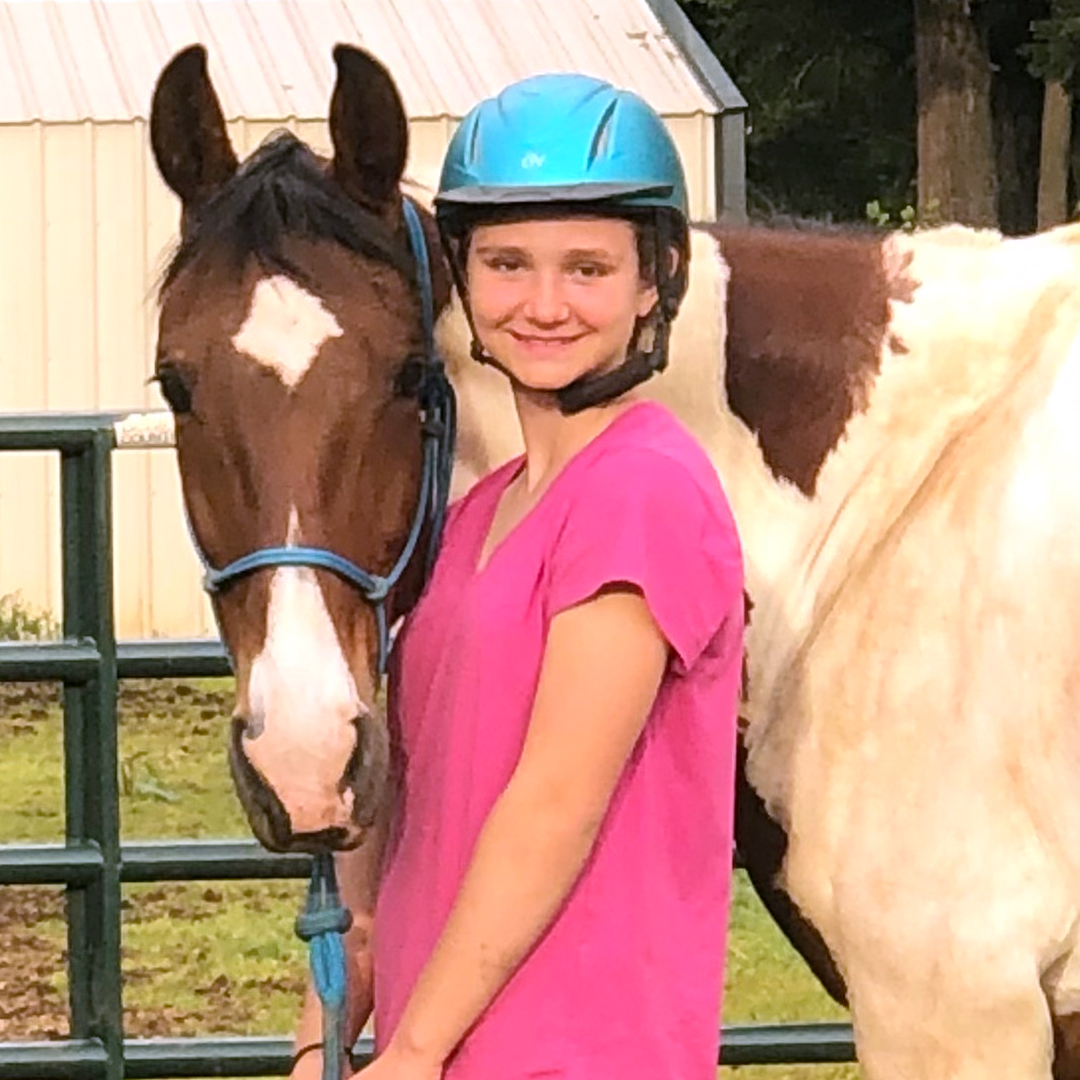 Briana and Taylor Thomas & Water Colors
WATER COLORS: 12-year old bay/white 16hh Saddlebred Mare
Water Colors a is 12-year-old bay/white 17 hand Saddlebred mare, currently w/t/c under saddle and is being ridden out on trails. She rides front or back of the string and goes out solo as well. Water Colors is a sweetheart of a mare and enjoys attention. Because she is green broke, she will need an intermediate rider/ handler. With more miles and time under saddle, she has the potential to pack around less experienced riders. Water Colors also rides well in the arena. She has tons of potential to go in many directions, but really excels as a solid and sane trail mount.
Taylor Thomas is 13 years old and has grown up in the barn.  She began showing at the age of 4 in lead line classes at Pinto and Buckskin shows and started showing at breed shows on her own at 5 years.  Taylor has also been helping her mom with ponies in training for years. She loves riding ponies even though her legs are starting to get too long. Taylor has shown in multiple disciplines at many different association and local shows over the years. From cart driving her mini  Monte, to eventing on her pony Luke to getting her own thoroughbred project mare Phoenix, who has taught her to be very patient and how to think outside the box. Taylor believes that spending lots of time with her horses can really help them become quiet, confident, and loving partners.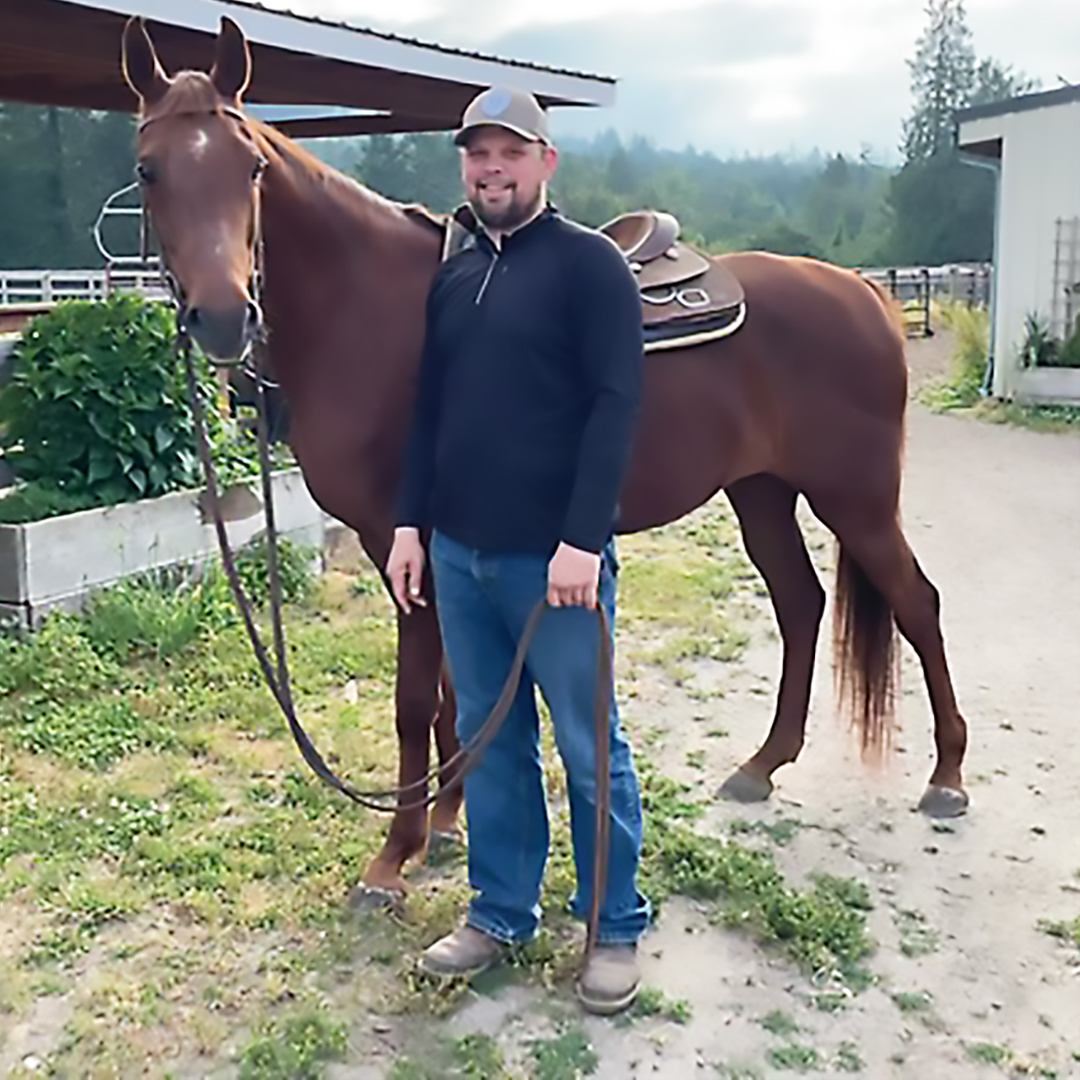 REBEL: 18-year Chestnut 15.3hh Saddlebred Mare
Rebel is an 18 year old, 15.3 hand chestnut Saddlebred mare. Don't let her age fool you, she has energy to spare and the more she works, the better her stamina. Her natural inclination is to rack rather than trot. She's a smooth and fun ride! She does well in the arena and is getting ready to hit the trails. We think she's going to make a nice and comfy trail horse. She is still green and spirited, so she will require an intermediate to advanced rider to continue her education and relaxation.
Josh grew up on a family farm that bred Arabians. He was always drawn more towards training and helping out troubled horses rather than breeding. So when he graduated high school he immediately moved to Montana to work with a trainer. The beginning of his career was focused mostly on training Arabian horses. He has since branched out and has worked with pretty much any breed and in every discipline. Josh blends a mix of training techniques, but his program is rooted in natural horsemanship. He currently runs his own training program, Shambaugh Equine, out of Triscoli Farms.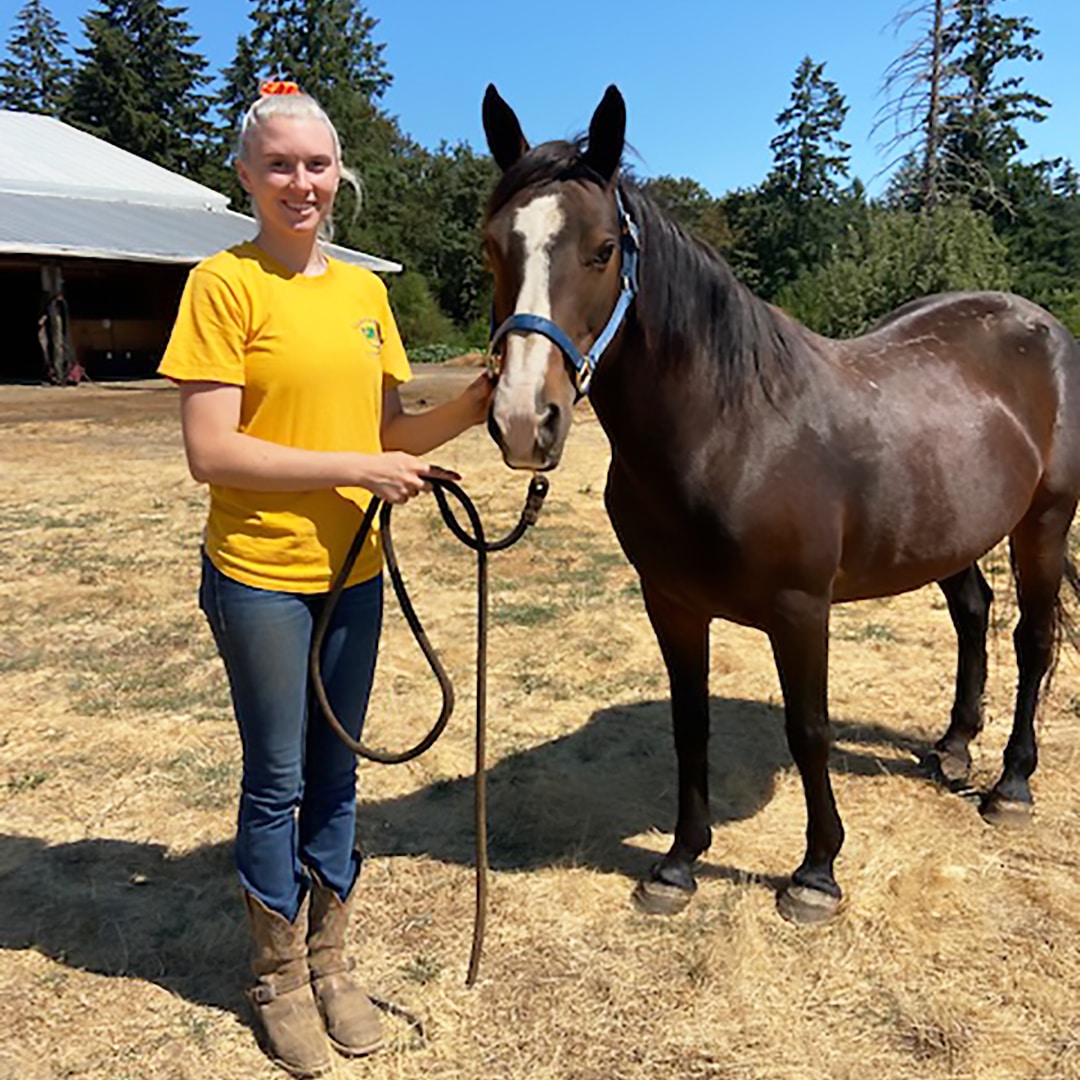 HAZEL: 10-year-old Bay 13.1 hh Yakima Reservation Pony
Hazel is a 10 year old, 13.1 hand bay Yakima reservation pony. This sweet mare would love nothing more than to hang out with her person, eat treats and get loved on. She has not started under saddle yet, but is doing great with groundwork and saddling. She's brave even when worried and very tolerant. Hazel has the size and temperament to make a great kid's horse down the road.
Mikenna is a trainer at Three Beat Farms in Oregon City. She has a degree in Equine Science and Management and has been riding for 20 years. Previously, she was the assistant manager at the Lake Oswego Hunt Club and helped run the riding academy there. Her riding/training background covers multiple disciplines spanning from working stock horse to jumping. She currently trains, runs a lesson program, and works closely with youth organizations such as 4H, OHSET and IEA.